Sushi Aoki

has a new Review Rewards coupon!

By logging in on BCRestaurants.ca and writing a brief review about your experience at Sushi Aoki, you will earn a coupon for 50% off a Special Dinner Combo for 2!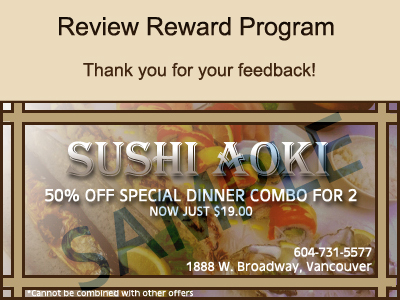 This amazing combo includes:
5 pc Appetizer sashimi (3 pc tuna, 2 pc salmon)
Salmon mango roll
Crunchy roll
Grilled sanma
2 pc Fresh oysters
Miso soup for 2
Rice


What's more, there are always great DAILY deals available at the restaurant.

So visit Sushi Aoki today, and enjoy!!