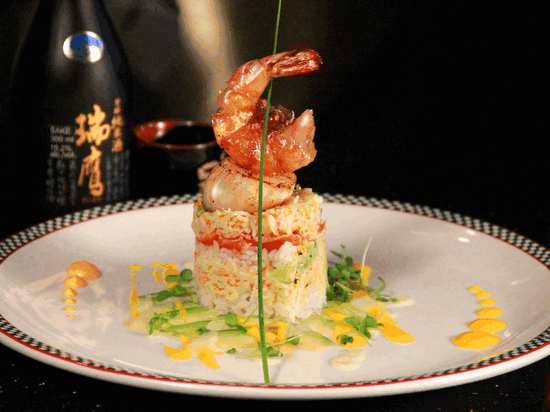 My dining experience at Yokohama was more than a standard meal at a restaurant. Upon entering the doors hidden at the end of a heritage alley, I was met with a beautifully constructed set-up reminiscent of a traditional Japanese teahouse. Lanterns create a heart-warming atmosphere, and one can hardly fail to notice the paper walls separating the larger booths. But the most impressive aesthetic element is the culturally faithful costumes worn by the staff, complete with ornate kimonos. Looking around the room, the décor is definitely easy on the eyes.

But what about the food, you ask? Well let me tell you, the menu is nothing to be scoffed at. The staple dishes of any sushi diner – California rolls, assorted nigiri sushi, and dragon rolls, just to name a few – are served in artistic arrangements that are, in my opinion, one of the prettiest I have seen in all my time at Japanese eateries – and I have a fair few names under my belt. Once the desire to satisfy a hungry stomach overwhelms the initial desire to gaze in awe I found that the art-on-a-plate was quite tasty. Those with a lighter palette will certainly find this restaurant suitable. Even the desserts are dressed up. A favourite of mine is the homemade ice cream, which is served in a freshly frozen hollowed pineapple, coconut, or orange to match the flavour. A perfect way to end a dinner.

In a separate menu book, I discovered a pleasant surprise. At Yokohama, it is possible to order gourmet delicacies, such as Kobe beef and foie gras, in addition to the various sushi, udon, and teriyaki items. You will not find many Japanese restaurants that carry such high-quality foods. However, these are not for the stingy, as can be expected.

The absolute most unique aspect of Yokohama is the grill. Four of them are stationed at the centre of the room, surrounded by a bar-like tabletop that seats up to 50. The grills are worked by master chefs who, apart from dazzling the diners with metre-high flames and mach-speed chopping, carry on a hearty conversation while their customers are watching and waiting for their grilled meals. A romantic evening can easily be embellished by a heart-shaped mountain of bean sprouts or a short message written in oil and then torched. Adding eggs to the grill involves the elaborate "flying egg" trick. It's simply amazing! These chefs are undoubtedly performers at heart. Indeed, this live cooking show is what makes Yokohama unforgettable.

All in all, I highly recommend dining at Yokohama. If you get the chance, sit at the grill, order exotic food, and don't forget the ice cream! I'm sure you will enjoy this restaurant as much as I do.